Manufacturing services
Mechanical processing
Mechanical processing is a technological procedure consisting in removal of a specific amount of material by a tool in order to obtain the required dimensions and shape of the elements processed and in some cases also in order to obtain specific physical and mechanical properties of the surface and subsurface layer.
We provide the following services within the scope of mechanical processing:
turning – processing of external and internal surfaces of objects in the shape of solids of revolution
General turning parameters:
– Max. turning diameter: Ø 800mm / Ø 600mm
– Max. turning length:      3000mm / 6000mm

milling – formation of planes and grooves
General milling parameters:
Max. size of object processed:
400mm x 850mm [W x L]
boring– processing of internal surfaces
drilling– making openings
reaming– finishing of openings
planing– processing with the use of a tool performing a reciprocating motion
chiselling

 – processing consisting in cutting the material with a blade fitted on a slider performing a horizontal or vertical reciprocating motion.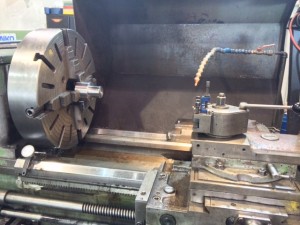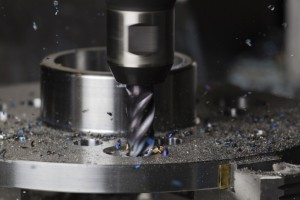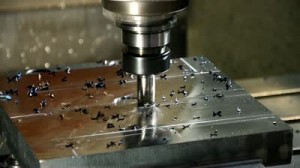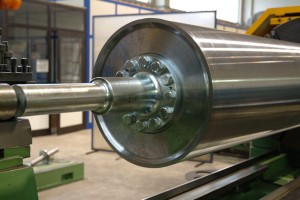 Welding and assembly
What we call welding is connecting metals using heat by partial melting of the parts connected or using a welding medium.
During welding there is usually added additional material (solder) that, when fused together with the material welded, creates a weld and significantly improves the weld properties.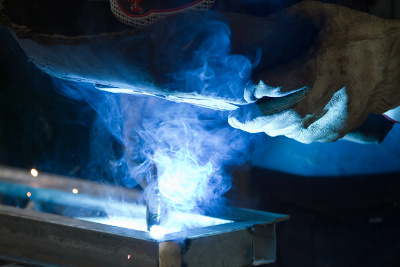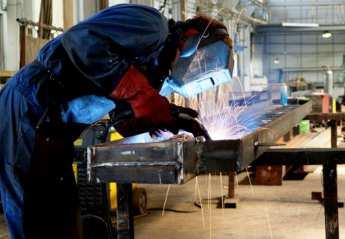 CNC plasma cutting
A CNC plasma cutter is intended for using air plasma to cut electricity conducting elements made of carbon steel and alloy steel, aluminium and aluminium alloys, brass, copper and cast iron. Plasma cutting consists in melting and ejecting the material from a fissure by means of a highly concentrated plasma arc.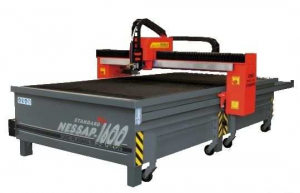 Working area of 6250mm / 2500mm,
openings can be burnt in profiles of up to 200 mm,
possibility of cutting from 1 to 25 mm;
Water jet cutting
Water jet cutting is a technology that uses water under very high pressure to cut through various materials. In case of soft and thin materials, such as rubber, it is enough to use water alone. On the other hand, harder and thicker materials are cut with water mixed with abrasive medium. After passing through a sapphire nozzle, the water sucks the abradant into the mixing chamber. The mixture of water and abradant is then directed to the cutting nozzle, from which it is ejected at very high velocity. This enables cutting with precision of ± 0.09 mm.
MATERIAL TO BE CUT:
non-ferrous metals and their alloys
plastics
ceramics
stone
glass
rubber
steel (carbon steel, alloy steel, structural steel, generic steel, quality steel, tool steel, hard wearing steel, galvanized steel)
stainless steel (stainless, heatproof, acid-proof).
ADVANTAGES OF WATER JET CUTTING:
possibility of cutting almost every material with thickness from 0.1 to 200 mm
cold treatment – the material is not heated, there occur no structural alterations, no micro-cracks, no spot hardening, no internal tensions in the material,
environmentally friendly method of cutting – the abrasives used are of natural origin,
high linear velocity of cutting, narrow cutting width,
very good quality of the surface cut; in many cases there is no need for finishing treatment,
perfect method for low-volume manufacturing.
Semi-automatic band saw cutting
Highly efficient machine for semi-automatic cutting of complete materials and profiles made of steel, cast iron and non-ferrous metals.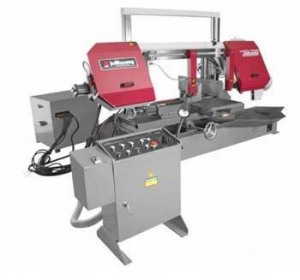 The cutter arm, made of solid cast iron mould, together with the saw band with width of 41 mm employed in this cutter makes it fully possible to cut materials with thickness of even up to 700 mm.
Sheet metal bending
A bending brake enables bending of elements with high precision and repeatability of bending angle, as well as adjusting these parameters to a specific material and the method of forming it.
TECHNICAL DATA:
Control over CNC DNC 800
Pressure 400 tons
Bending length 7050 mm
Distance between posts 5100 mm
Max. stroke 300 mm
Bending of pipes and profiles
A precise and efficient machine for bending steel, copper, aluminium and brass pipes. Possibility of choosing an optimal bending radius enables obtaining high quality results without deformation of material.
Pipe bending machines are devices used for discrete or low-volume manufacturing of parts in automotive and furniture industry, for architectural purposes or in manufacturing of garden tools.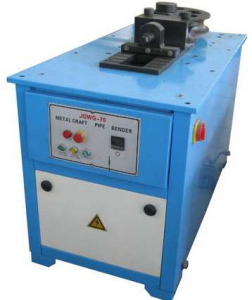 TECHNICAL DATA:
Max. diameter of pipe bent: 70 mm
Max. square profile dimensions: 50 x 50 x 2mm
Revolutions per minute: 1.5 rpm
Max. bending angle: 180 degrees
Sheet metal rolling
Rolling is a procedure consisting in plastic processing during which there takes place plastic deformation of metal by squeezing it between rollers moving in opposite directions.
Creating a rolled element always depends on thickness, width and diameter.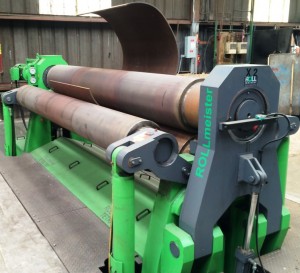 ROLLING MILL TECHNICAL PARAMETERS:
Max. sheet metal thickness: 10 mm
Max. sheet metal width: 2000 mm
Min. rolling diameter: Ø 400 mm
Max. rolling diameter: Ø 2000 mm
Services within the scope of inspections and examinations
Verification of working plans and specifications – checking whether the necessary qualitative requirements the meeting of which enables manufacturing a product have been specified.
Preparing and executing recognitions of WPQR technology and examining welders on behalf of TUV RHEINLAND.
Elaborating a quality plan.
Elaboration of plan of inspections and examinations.
Inspection of welding works (initial, interoperational and final inspection).
Non-destructive testing (NDT):

ultrasound tests (UT) according to the PN-EN ISO 11666 (PN-EN 1712) + PN-EN ISO 17640 (PN-EN 1714) standard,
ultrasounds tests (UT) of sheet metal for delamination according to the PN-EN 10160 standard,
magnetic – particle tests (MT) according to the PN-EN ISO 17638 (PN-EN 1290) + PN-EN ISO 23278 (PN-EN 1291) standard,
penetration tests (PT) according to the PN-EN 571-1 + PN-EN ISO 23277 standard,
visual tests (VT) according to the PN-EN ISO 17637 (PN-EN 970) + PN-EN 13018 standard,
tightness test.

Elaboration of quality documentation: interoperational and as-is documentation.